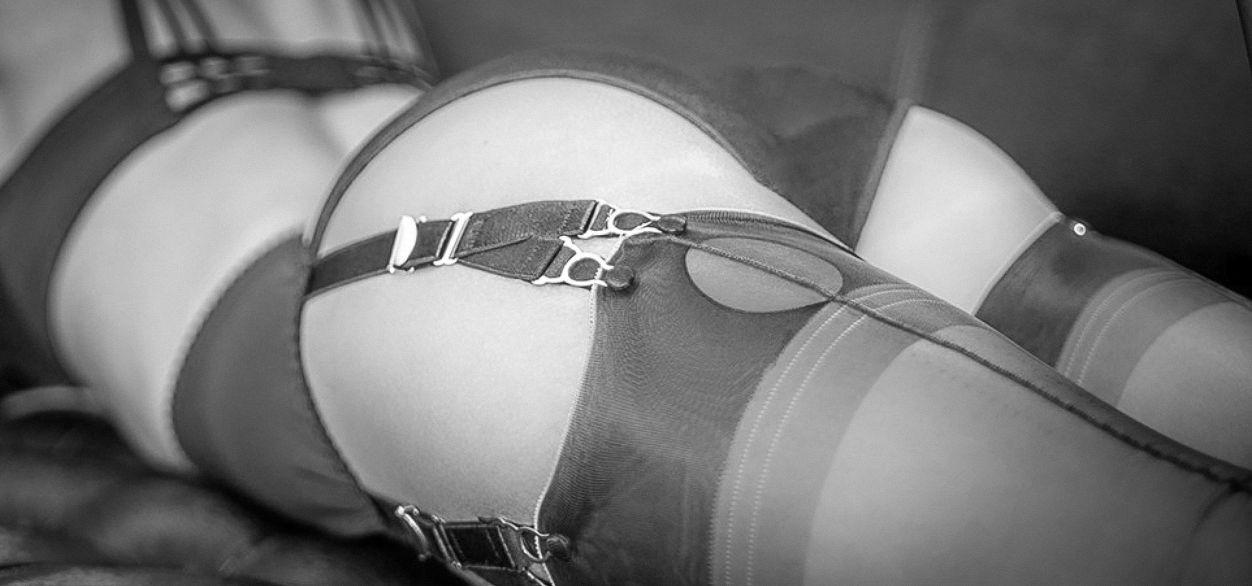 Most of us have heard of "Fully Fashioned" stockings/nylons but still no doubt there are some us who are still new-comers to these amazing items of hosiery. And also unsure of their history… so here's a quick guide to help us out.
What are they?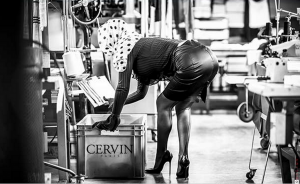 Fully Fashioned meaning:
Fully fashioned stockings are knitted flat – still on the original 1940/50's Reading machines. The nylon is then cut and the two sides are joined by a seam up the back to create an authentic 'backseam' or 'seamed' stocking.. Beware a many false (and rather poor) imitations like RHT's with a fake printed seam. There are only around 4 machines still operating world-wide and around on average only 30 pairs made an hour – these babies are not cheap to make nor come by!
Changing heel types also takes time, which is why certain heel types are sometimes out of stock: they may be knitted just once a year and demand often exceeds supply.
What are they made from?
When we purchase an item of clothing we rarely look at what it's made of – unless we after a specific material like silk, wool, cashmere etc.
While most buyers go right for a 'regular' pair of stockings they will not realise what the composition of these stockings include: –
1) Nylon (of course) & 2) Lycra or similar stretchable material
Yet the 'discerning' few of us who have experienced the wonderful world of 100% nylon stockings know the difference. There is nothing like wearing a pair of fully fashioneds. Silky smooth to the touch (certainly not what I was expecting), their lack of Lycra means that they will not 'give' any stretch and therefore it is imperative that you measure your foot correctly upon first time buying and consider how high you want them to sit on your thigh. (Please see the blog all about that).
Quick History:
Hand-knitted stockings had been made and were a staple part of a man's wardrobe in the 12th century. Their manufacture was revolutionised in 1589 by a knitting machine created by an Elizabethan Vicar. This new invention utilised multiple needles arranged in a straight line to produce a flat knitted stocking that only needed seaming by hand. The main feature was the spring or "bearded" needles, a design that is still used today to make modern-day hosiery.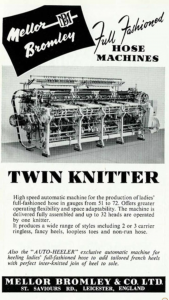 The shortening of hemlines in the roaring 20's meant that women increasingly began to cover their exposed legs in flesh-coloured stockings. initially made of silk or artificial silk 'rayon". With the creation of nylon by DuPONT in the 1940's, this became the popular choice as they were now cheaper, stronger and more sheer. And we have the birth of the 100% Nylon stocking. Seamless stockings were then born in the 40's out of new hosiery techniques.
Brands;
Gio (Nottingham), Eleganti (UK), Cervin (France), Magnolia (USA – no longer operational), Gerbe (also unsure as of operation), other who pay these companies to make their 'own label'.
How to recognise a Fully Fashioned Stocking (FFS):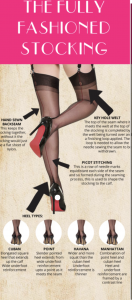 Tell-tale sign 1) the keyhole 'finishing loop'. Unmistakable circular gap in the top seam over the welt. During seaming, the seamstress folds the welt over on itself, to make this part extra-durable. This 'hole' allows the sewing needle to be withdrawn once the welt has been secured in place.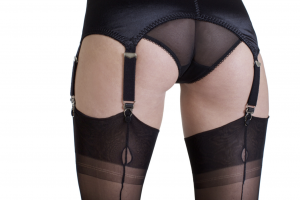 Tell-tale sign 2) the seam. Stitched , not printed.  Some circular-knit stockings have seams sewn onto them to  try to fool you, so check the seam runs all the way under the foot to the toe.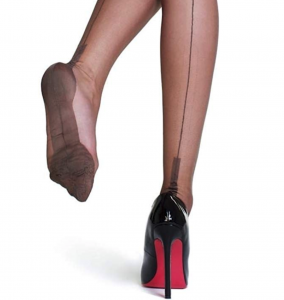 Tell-tale sign 3) Picot lines (Compression stitches or fashioning marks). Faint rows of dots on either side of the seam, created when the machine adjusts the width of the flat stocking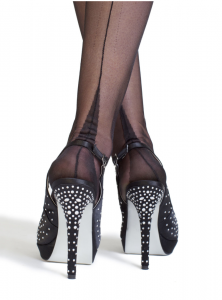 Heel types:
Here's just some for a sweetener!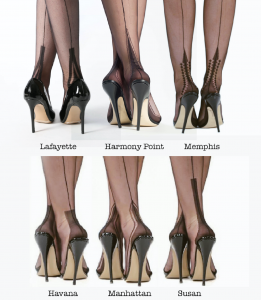 Please see the blog all about that!
++**If you wish to contribute to our blogs – either your thoughts or material, then please contact us at **++
kerrin@missfifty.com.au